IF YOU'VE GOT TERMITES, WE'LL FIND 'EM
We've performed over 50,000 termite inspections!
A-Agents has performed over 50,000 termite inspections, so when it comes to finding termites, we've got the skills and ability to find them.
Whether you're getting a termite inspection as part of your home-buying process, or just think you might have termite activity in your home, call our experts to find out for sure!
Our non-invasive inspections check all the areas where termites are likely to leave behind evidence of their nefarious activities – including the foundation and stem wall, plumbing supply line entrances and exits, attic joists, and even pinholes that can be easily mistaken for nail holes.
With over 50 years of termite inspection experience, we know what we're looking for, and can give you the advice and treatment you need to control those hungry termites and keep them from damaging your home.

CALL US TODAY
623-434-5020
Termite Inspections For Home Buyers
Buying a new home and need to know if the property has (or has ever had) termites? Our state-certified inspectors can tell you if the home has been treated for termites within the last 5 years (and many times, even if it has been treated long ago), if the home has termites, and what it will take to remediate those termites if we find them by providing you with a detailed termite report.
Your electronically delivered Wood Destroying Insect Inspection Report (or W.D.I.I.R. – a name only the government could come up with), is type-written, features a computerized graph of the potential problems, and detailed photos of areas that need attention.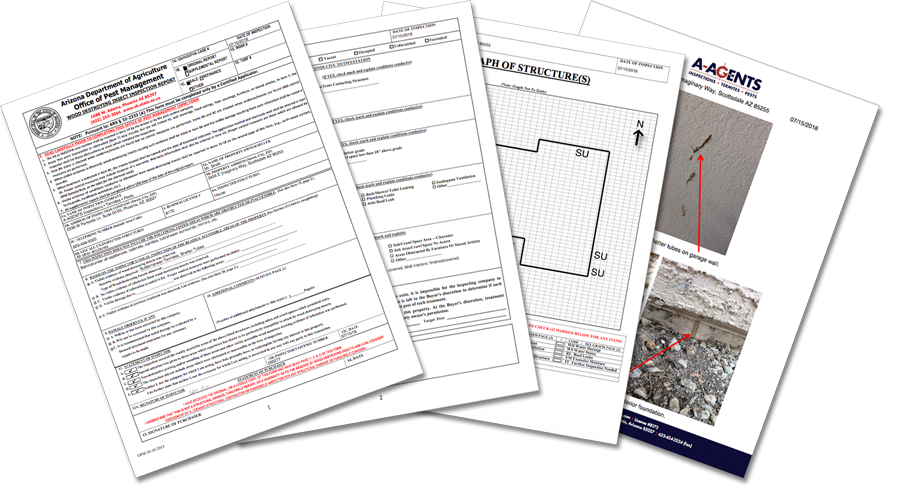 ORDER A TERMITE INSPECTION
Order your Arizona state-certified termite inspection (Wood Destroying Insect Inspection Report, or W.D.I.I.R.).